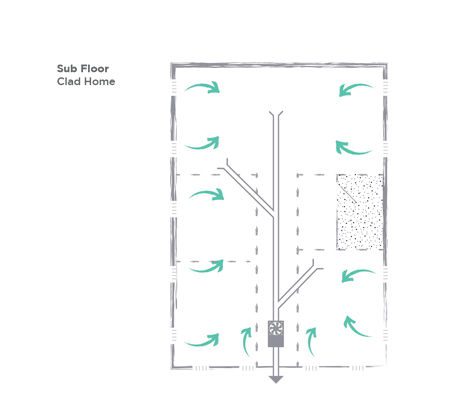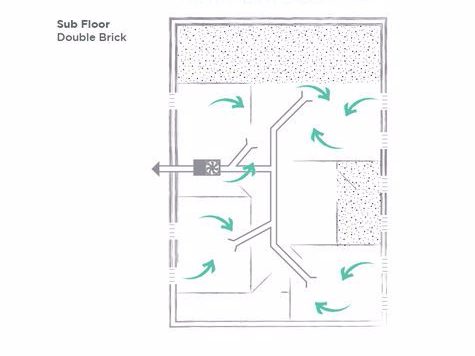 What is a sub floor & what is sub floor ventilation?
---
Sub floor – this is the enclosed space (under or adjacent) between the natural ground and your floor level.
Sub floor ventilation - the process and systems used to to extract damp air from your home in turn allowing fresh, dry air to enter under your floor area areas.
---
Why might I need ventilation in my home?
---
A poorly ventilated sub floor can contribute to or even directly cause an array of problems in your home. These range from a general feeling of dampness, or a stale or musty environment, throughs to issues with mould, mildew, warping floorboards or even termite infestations.
A damp sub floor is a perfect breeding ground for mould spores. The spores will naturally evaporate and penetrate into your home, eventually being attracted to a cool, dark area where they will land and grow, which is why you will find mould growing in cupboards and/or behind furniture.
These damp areas also provide ideal conditions for termites which survive best in damp, moist areas, hence if you don't want termites, ensuring your property is kept dry is a key preventative measure.
How does it work?
Sub floor ventilation is about creating airflow either passively or through the use of a mechanical ventilation system.
To increase passive airflow, after a thorough assessment, we may specify and increase in the size of your existing vents, or may add more vents in the walls leading to the sub floor area.
Another alternative is to install a mechanical ventilation system which will create the airflow to exhaust the damp air that is causing the problem in your home.
We use a ducted in-line system to do this. As air will always balance itself, by drawing out the musty air, the fresh air will be drawn into the sub floor and make this area a drier, healthier space.
Consistent air movement in the sub floor will minimize the ability for mould spores to generate and vaporize into your living areas. Any spores that might generate will be expelled out from the sub floor area through use of the fan.
How much will it cost?
Every home is different so we offer a free initial inspection to then allow us to provide you with a competitive quote. Our 16 years of experience and use of quality products ensures that you will have both a competitive up-front cost and also be confident of low running and maintenance costs over the life of the installation.
What areas do you service?
We're based on the Upper North Shore of Sydney from which cover the entire Sydney Metro area, the Central Coast, Hills District, Sutherland Shire, the Blue Mountains and beyond!
---
If you are experiencing any of the above, or want to learn more about us and our services, please contact us. We are delighted to provide an obligation-free quote, with your personalised home assessment and solution recommendations from the Ventilate Your Home team.
---