Heat Recovery Ventilation
A heat recovery system, also known as 'mechanical ventilation heat recovery,' is a system that operates between two air sources at different temperatures and is used to reduce the heating and cooling demands of a building whilst improving the air quality.

A typical recovery system is made up of a core unit, which has fans, filters and the heat exchanger. Ducting is run throughout the house to vents which allow air in and out. These mechanical ventilation systems can recover 60-90% of the heat in the exhaust air and can significantly improve the energy efficacy of the buildings. The more airtight your home is, the better the heat recovery will be.
Heat Recovery Systems also feature a filtration system to reduce dust and pollen in the home, and can also reduce moisture, condensation and cooking smells. Mechanical ventilation systems such as these are commonly used in homes looking to adhere to Passive House standards.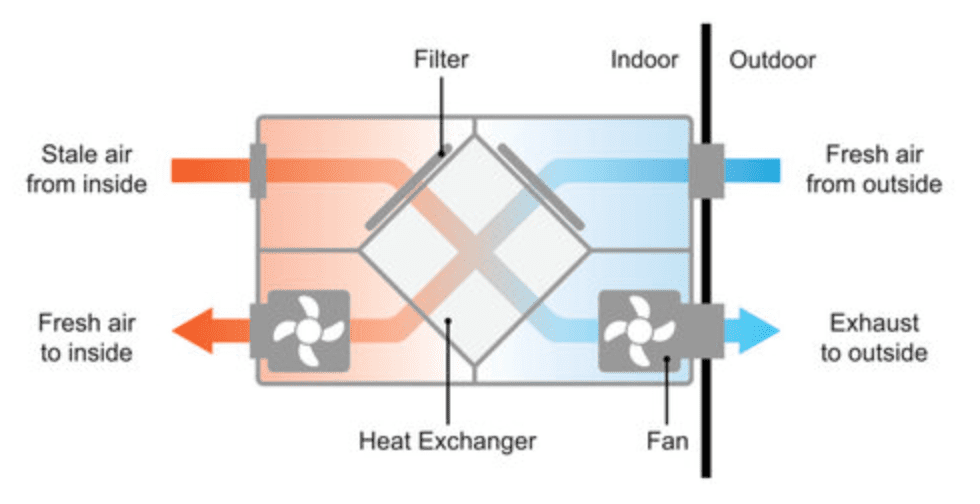 How much will it cost?
Every home is different, so we offer a free initial inspection to then allow us to provide you with a competitive quote. With our knowledgeable experience of over 35 years in the industry, and our use of quality products, we will ensure that you will have both a competitive up-front cost and be confident of low running maintenance costs for the life of the installation.
What areas do you service?
We're based on the Upper North Shore of Sydney from which cover the entire Sydney Metro area, the Central Coast, Hills District, Sutherland Shire, the Blue Mountains and beyond!
---
If you are experiencing any of the above, or want to learn more about us and our services, please contact us. We are delighted to provide an obligation-free quote, with your personalised home assessment and solution recommendations from the Ventilate Your Home team.